CPDMS.net Hot Key Guide
The CPDMS.net web site has been designed to keep the use of the mouse at a minimum. Data entry for all patient data can be completed without using the mouse at all. This document describes how to navigate CPDMS.net data entry using keyboard shortcuts.
Browser Support
At this time, CPDMS.net is supported only on Internet Explorer 6 and above. The keybord shortcuts work best with IE 6.
About Keyboard Short Cuts
The keyboard shortcuts are enabled when any one element on the page has focus. (i.e. a data entry field, a button or the background page is activated.) When none of the elements have focus, press Tab on the keyboard to change focus to the page or any of its elements.
Guidelines for Using the Keyboard Shortcuts
Main Menu and Data Entry Menu
Press and hold Alt, then [Hot Key] to select a Menu option or a sub-Menu. Hot Keys are always highlighted in red. Once a sub-Menu is selected, you can press a Hot Key (without holding Alt) to select the sub-Menu option. Press Enter to choose a selected Menu or sub-Menu option. Press Esc to return to the previous Menu or sub-Menu.
You can also use the left and right arrow keys on the top level and up and down arrow keys at the subsequent levels.
Data Entry Screens
Once in data entry, use the following keys to navigate data entry fields and pages.
| Key(s) | Function |
| --- | --- |
| Alt + Hot Key | Browse between pages |
| Esc | Cancel without saving |
| F4 | View a choice list for the selected data field (if available) |
| F7 | Go to the previous page |
| F8 | Go to the next page |
| F9 | View case affiliations if you are at the case level |
| F10 | Save the record |
Examples
Main Menu Navigation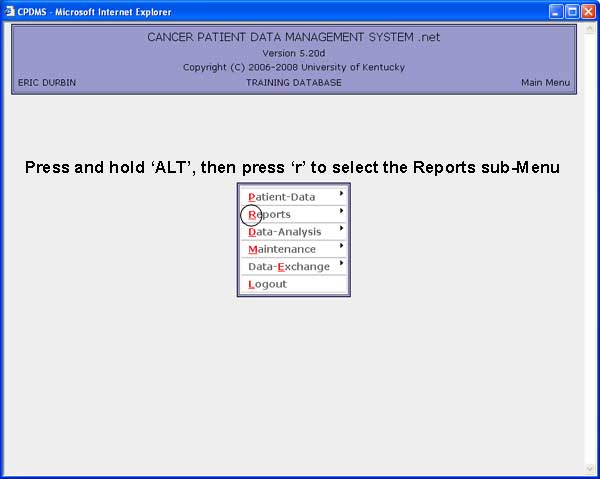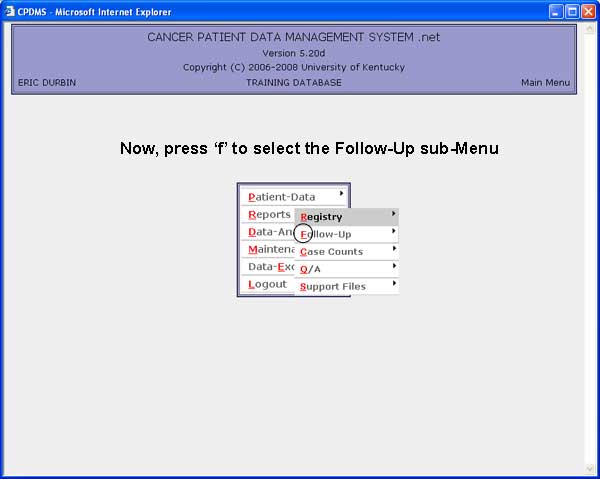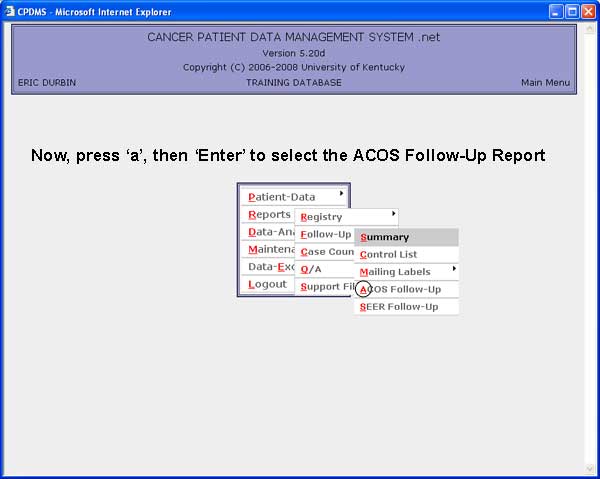 Data Entry Navigation